National Institute for Health Research (NIHR) Clinical Research Network
Exhibiting at booth 5b

Working in partnership with the life sciences industry
Access to NHS clinical expertise
Accurate national and local feasibility
Streamlined site identification
Study set-up support
Proactive performance monitoring
All free of charge
Funded by the UK government, the National Institute for Health Research (NIHR) Clinical Research Network (CRN) delivers high quality research in partnership with the UK's National Health Service (NHS). Our Study Support Service is free of charge and helps the life sciences industry plan, set-up and deliver high quality research to time and target, across all therapeutic areas.
We are your route to accessing the UK's unified research system - the most integrated health research system in the world.
Natalie Wilson
Business Development Manager
Theo Christie
Business Development Manager
Sinead Collinge
Operations and Business Development Manager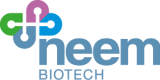 Neem Biotech
Neem Biotech is an R&D pharmaceutical biotech with expertise in novel antimicrobial research and drug development based on bacterial quorum sensing inhibition pathways.
Neem is a virtual SME with a footprint in South Wales. It has in-house chemistry and biology expertise and a leadership team with extensive antibacterial drug development experience. Neem is also linked in to a network of clinical and disease-area experts in wound and respiratory indications.
Dr Graham Dixon
CEO Neem Biotech
Heather Graz
Commercial Development Manager Neem Biotech